It's that time again- Gossip Girl is coming back from winter hiatus. In preparation for the onslaught of scandals, secrets, schemes, and increasingly convoluted stories, we have scoured the internets and collected various bits and bites concerning our favorite over-privileged characters and put them into one handy guide for your spoiling pleasure.
Serena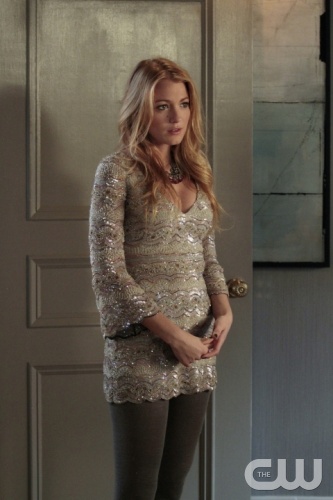 Serena has her very first dream sequence! In a leaked video, we saw Serena, dressed like Marilyn Monroe, singing "Diamonds are a Girl's Best Friend", and dancing about happily surrounded by severaldoting men, including Nate, Dan, Chuck, and Louis. Her song turns sad, though, when she notices she is no longer the object of Dan's attention. Dan is now focused on Blair, dressed as the iconic Holly Golightly and leading him up the stairs away from a sad Serena.
Serena will also be continuing on her mission to take down Gossip Girl.
Serena's friendship with Blair will be a bigger focus in the set of episodes, and the nature of that relationship will be coming into play.
In the 100th episode, Serena will be Blair's maid of honor and according to Josh Safran, she will be at Blair's side throughout the episode.
Serena's father will also be returning. A unnamed family crisis will bring William van der Woodsen back into the fold, and familial drama will ensue.
Blair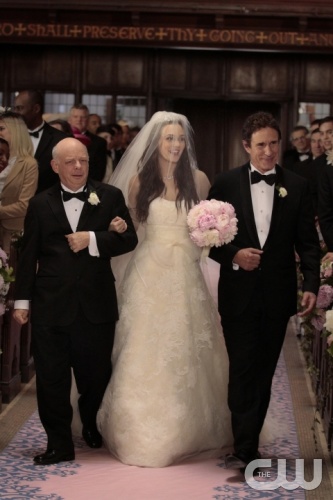 Blair will be shopping at Vera Wang for her wedding dress in the upcoming episode, and Safranconfirmed that the dress she chooses will be a Vera.
A discovery of heartfelt vows help a torn Blair make her final decision to marry Louis. Of course, since this is Gossip Girl, these words were not written by Louis.
Blair will make it the altar! Stills from the 100th have been released and they show a happy Louis and a not-so-happy Blair standing at the alter. Ed Westwick revealed in recent interviews that Blair's feelings for Chuck will still be in play, but not to what extent.
When questioned about about waffling between the men in her life, Safran responded, "She will stop going back and forth well before the end of this season,"
Dan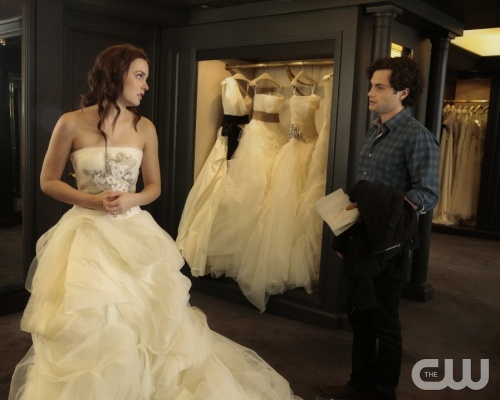 Dan gets involved in the royal wedding. Dan talks with Blair at Vera Wang while is trying on weddingdresses. He will also be the one to pen the vows the convince Blair to marry Louis, and seems to be dressed as a groomsman, though we have no confirmation on his actual role.
"I know people are getting a bit tired of that two steps forward, one step back. I think that a resolution will soon be apparent," was Safran's ever-vague response to the back and forth nature of the Dan/Blair story line.
The return of Alessandra, Dan's book-agent, signifies that the Inside story line is not as done as once thought.
Nate
Here is some huge, surprising news for you guys: Nate has a new love interest! It might be hard to believe but recent filming pictures have our Nate spending some quality time with a mysterious blonde.
At the end of the first half of the season, we saw Nate taking over The Spectator, and his family getting involved in some nefarious schemes. "Nate's story comes to a major conclusion, and a new story appears in its wake," says Safran. "Nate is about to take on even more with Diana gone with the Spectator, with the ultimate answer to what went on in the crash. Resolution to the crash is in episode 12 — in two weeks. It's really good!"
Chuck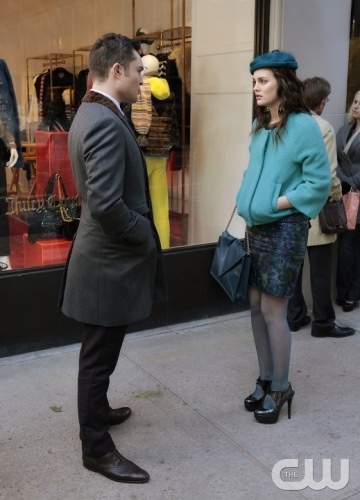 First order of business: CHUCK IS NOT DEAD! Shocker.
Despite the messy history Chuck, Blair, and Louis, Westwick revealed that Chuck is definitely invited to
the wedding.
It looks like Chuck's main upcoming story line will revolve around his pursuit of Blair. He's on a mission to get back Blair. Ed hinted that Chuck's desire to be with Blair will be on obsession and he isn't above being back-handed about it. "He's doing for the rest of the reason, is trying, trying and trying. Of course, when something's like that, sometimes you try bad methods, you try bad approaches."
Chuck's favorite uncle, Jack , will be returning in the final third of the season, and the connection between Diana Payne and the Bass family will be explored. Similar to the end of last season, Chuck and Jack will be on good terms and working together to reveal secrets.
Ivy
The reveal of Ivy's identity is going to upset a lot of people, but apparently, Rufus and Lily will be the ones most affected.
Real Charlie does exist! While Safran won't confirm whether we will see the real Charlie or not, he did confirm that there is a real Charlie. There goes that theory.
Georgina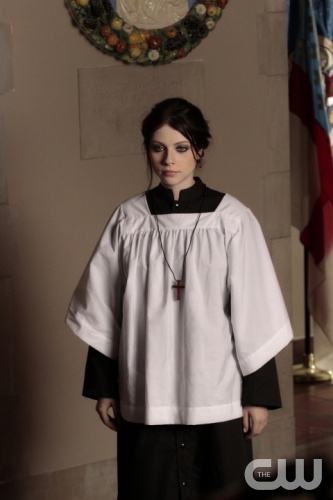 Georgina will be returning in 100th episode for several episodes. "Longest arc we've had her for sinceseason one." said Safran. He also implied she would be involve in several characters' stories.
"Effing things up for everybody," Westwick responded regarding Georgina's role in her upcoming story line. He also hinted that Georgina and Chuck's relationship might not be strictly professional this time.
Someone is dying!
We have had more hospital filming featuring Cece, Lily, Rufus, Serena, Blair, and Dan. (Caroline Lagerfelt, Cece, confirmed this roll call on her Twitter), and earlier this week, this tweet went out from @IrishArtsCenter: IAC Bodhrán instructor, Anna Colliton, is filming an Irish wake scene on Gossip Girl this week. Look out for her in future episodes! (The wake part was later redacted.)
The writers/directors for the upcoming episodes:
5.11 "The End of the Affair?": Sara Goodman/Michael Grossman
5.12 "Father and the Bride": Peter Elkhoff/Amy Heckerling
5.13 "GG": Josh Safran/Mark Piznarski
5.14 Title unknown: Matt Whitney/David Warren
5.15 Title unknown: Austin Winsburg/director unknown
5.16 Title unknown: Amy Harris/director unkown
5.17 Title unknown: Jake Coburn/Andrew McCarthy
5.18 Title unknown: AnneMarie Navar-Gil/director unknown
5.22 Title unknown: writer Unknown/Bart Wenrich
Released Synopses
5.11 "The End of the Affair?" Blair's flashbacks reveal the fallout of her and Chuck's car accident, which Nate realizes may have been caused by foul play. Meanwhile, Lily gets a private eye to locate Charlie; and Vera Wang makes an appearance at Blair's bridal-dress fitting. Original Air Date: Jan 16, 2012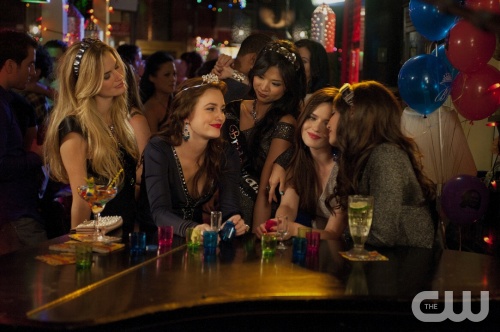 5.12 "Father and the Bride" BLAIR'S BACHELORETTE PARTY/EPISODE DIRECTED BY AMY HECKERLING ("CLUELESS") — Blair (Leighton Meester) prepares to celebrate her upcoming royal wedding with a bachelorette party, but others scheme behind her back to make this a night to remember. After discovering the truth behind Chuck (Ed Westwick) and Blair's car accident, Nate (Chace Crawford) joins forces with a surprising ally to gather the evidence. Serena (Blake Lively) and Dan (Penn Badgley) pretend to be dating again to protect someone close to them. Kelly Rutherford and Matthew Settle also star.
5.13: "GG" OMG! GOSSIP GIRL HITS 100 EPISODES! — The much-anticipated 100th episode will open with a musical dream sequence featuring Serena (Blake Lively), Blair (Leighton Meester) and all the men in their lives (Penn Badgley, Chace Crawford, Ed Westwick and Hugo Becker). Also, while Chuck (Ed Westwick) wrestles with the reality that Blair is about to walk down the aisle with Prince Louis (guest star Hugo Becker), the return of Georgina Sparks (guest star Michelle Trachtenberg) might make the royal affair a royal disaster. Kelly Rutherford and Matthew Settle also star.
Various tidbits for episode 5.11 "The End of the Affair?"
US Promo:
[youtube https://www.youtube.com/watch?v=_jAlbISHACQ]
Canadian Promo:
[youtube https://www.youtube.com/watch?v=6OX-2mY_fqc]
Producer's Preview:
[youtube https://www.youtube.com/watch?v=JcfSO3ZJjJg]
Sneak Peek:
[youtube https://www.youtube.com/watch?v=LLqfVyZxXU8]
Twitter Info
"Wicked Game" cover on next Monday's Gossip Girl! -@VladaGelman
"there might be a kiss at midnight…a new kiss" -@GGWriters concerning the upcoming New Year's Eve party
Finally, when asked on twitter to use one word to describe the upcoming episodes, the writers answered, "revealing."
Revealing what? They wouldn't say, but if you have a theory or speculation, leave it in the comments section below!